Invoice Verification
One of our core values at Remedy is fairness. We bring this value to all our business dealings including our invoice verification services. Our invoice verification service ensures value and clarity for the project accounts payable function by ensuring that supplier invoices are accurate, reasonable and fair.

In the event a supplier invoice does not meet the above test we contact the supplier to work out a reasonable solution. All contacts with the supplier are documented and recorded for future references and audit purposes.

Our invoice verification and cost control process begins in the field on Remedy managed projects but can be tailored to benefit your company as a stand alone service.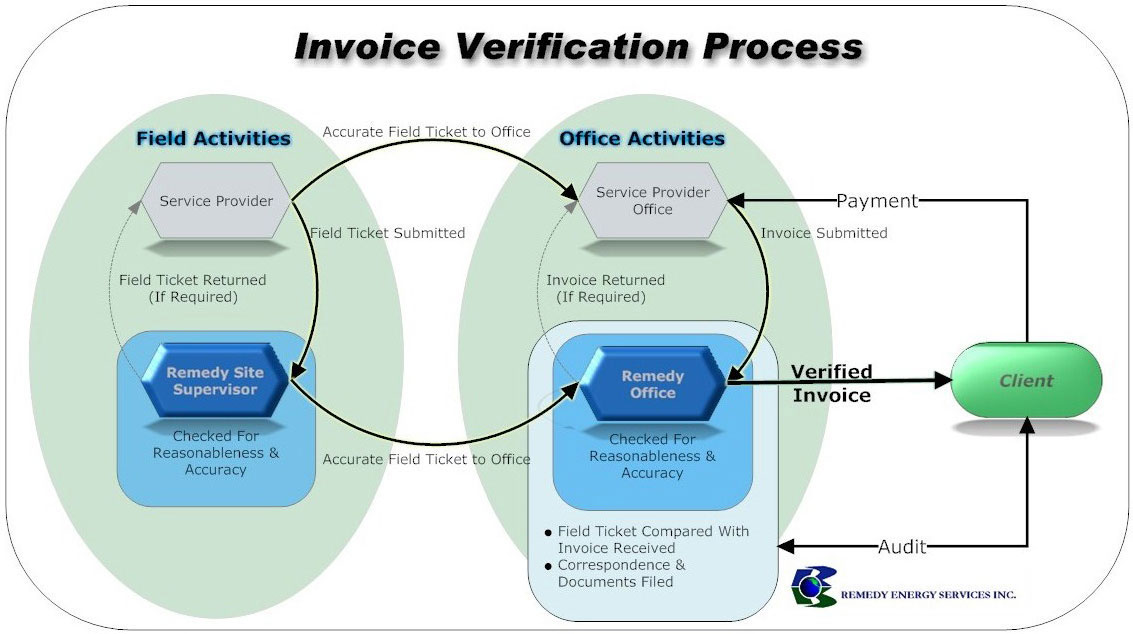 On Remedy managed projects the invoice verification service functions as depicted in the image above.
Suppliers and service providers provide a field ticket to the Remedy Well site Supervisor who ensures it is reasonable and accurate.
The field ticket is logged onsite. Movements of equipment and material are tracked on material transfer sheets.
The Remedy Well site Supervisor forwards the retained copy of the field ticket to the Remedy office.
Supplier invoices are addressed to our client c/o Remedy and arrive in our office.
Remedy administrative personnel log the arrival.
The contractor invoices are checked against the field ticket to ensure accuracy regarding prices, quantities, that third party charges are legitimate and have back up, and that calculations are correct.
Remedy senior personnel check the invoice for reasonableness and to determine if opportunities exist to legitimately reduce the cost.
If discrepancies or opportunities exist we contact the contractor and ensure that corrections are made. These contacts are logged as part of the invoice file.
The final invoice is then coded to comply with our clients accounting requirements and forwarded to them for payment.
Remedy retains electronic copies of all documents for added security and audit purposes.